I am a publisher of short stories and graphic novels. Visit the Ink Pen Mutations Press website for more information and a list of our published books.
I am also an author…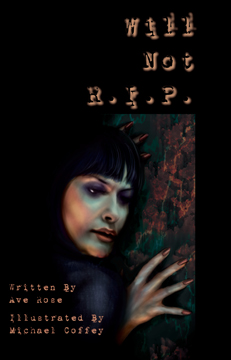 Will Not R.I.P. is comprised of four twisted tales about the beautiful but dark Anise. Drug abused parents, a husband that plays sick games, a true love for her daughter and a strong curiosity for S&M. Did her daughter really die, or is it all in her head? Dare to follow Anise's strange and terrifying journey through seedy motels, rough dirty sex and the haunting of her perverted child ghost. A darkly bizarre tour-de-force, the author recalls the nightmare imagery of Clive Barker.
86 pages. Hard Cover. Written by Ave Rose.
Illustrated by Michael Coffey.