"In her sculptures, LA based artist, Ave Rose uses clockwork, antiques, insects, bones and taxidermy ephemera in congress with motion mechanics to produce reanimated, organic robots that tend more towards rococo than science fiction. Incorporating precious gems and metals, her creatures are whimsical amusements that practically breathe with artificial life." – Matt Kennedy, curator of La Luz De Jesus Gallery.
Ave Rose's designer fashion & jewelry collections are created using rare & exotic materials in the same esthetic style of her sculptures.  Her work has been featured in music videos, TV shows, store front installations, and art galleries around the world.
In 2015, Ave Rose was a contestant on the national TV show Steampunk'd, where she created fantasy story-lines, props, sculptures and fashion pieces in every episode. In the grand finale, Ave's original steampunk fashion pieces helped seal the win for her team and Dita Von Teese compared her designs to that of Jean Paul Gaultier.
"Her works are characterized by compelling double-effects, blending beauty with the bizarre, technology with tradition, and youthful whimsy with the cold, mechanical realities of death. Behind all of the clockwork, darkness, and hints of satire, Ave's creations celebrate life by fearlessly confronting themes of a macabre nature." – Hayley Evans, Beautiful Decay Magazine.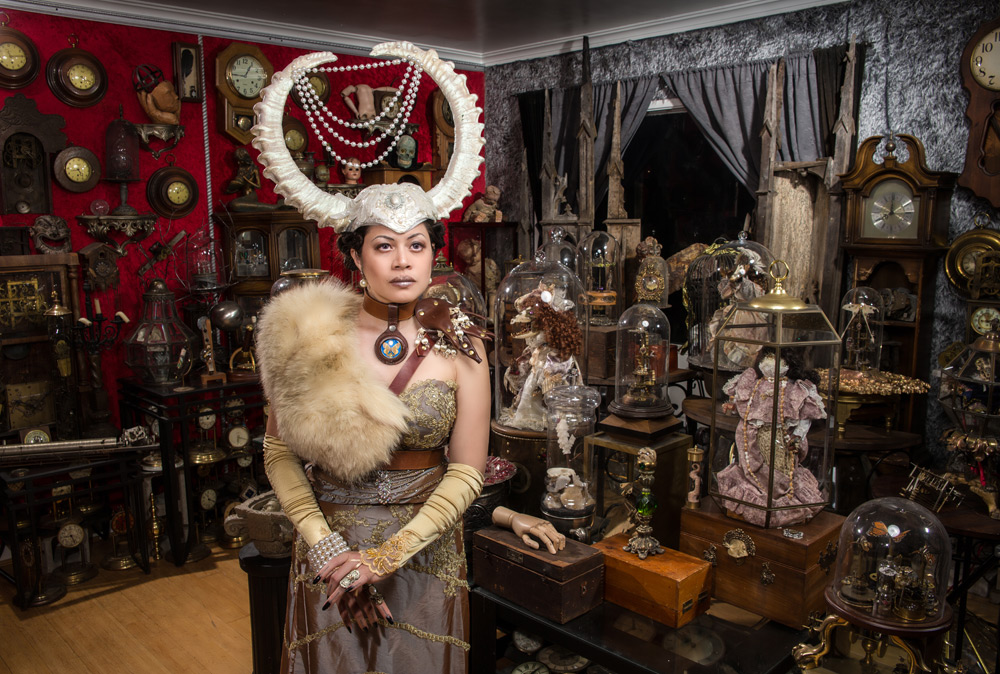 – Contact Ave Rose for bookings, events, etc. Ave@AveRoseArt.com
– Get on the Ave Rose Art Email List. This will keep you updated on art & performance events.
– Check my instagram @averose13 to see up to date progress shots & videos of all my work.
– Visit my Facebook Fan Page Ave Rose Art Fan Page.